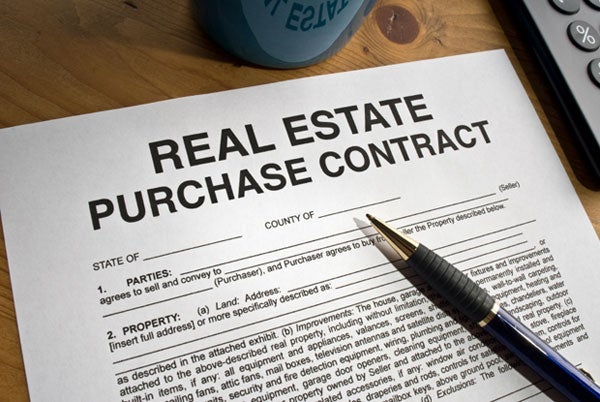 Ya down with SPP?
Yeah, you know me? 
Ever wonder what that line at the bottom of a listing that says Escape "Yes or no"? Or found out that a property you were watching was sold conditional for 30-45-60 days on SPP but have no idea what that means or what could possibly be a condition for that long? 
Anyone who has been licensed in the last 5-6 years has had the great fortune of unconditional o
ff
ers and fast sales, but those of us who have been pounding the real estate pavement in Ontario for 10 years and more remember this condition and it's making a serious comeback in 2019. 
Swift government changes, skyrocketing prices and more aggressive CRA oversight have caused a shift in the real estate market, not just in terms of pricing, but also in the conditions that we are seeing on o
ff
ers this year, and leading the charge is SPP. 
Since the beginning of 2019, o
ff
ers submitted on our listings at the Anna Oliver Group have seen a whopping 60% of them containing a condition on the sale of the purchasers property.
As markets shift toward Buyer advantage, this condition can become common place so it's important to know what they mean for you. 
SPP means Conditional On the
S
ale of the
P
urchasers
P
roperty (sometimes referred to as SOP) and it's something we haven't really seen in o
ff
ers for a decade. In fact, a large percentage of licensed realtors in Ontario have never heard of an SPP condition! If you've bought or sold a house in the last 10 years, you've had a better chance of finding a unicorn than seeing an SPP on an o
ff
er. 
How does this condition work? 
Just like any other condition, the SPP is intended to protect the buyer from committing to the property until they are sure that they will be able to close satisfactorily. When properties were selling fast, furious and for ridiculously top dollar, this wasn't a concern, because if you were upsizing, downsizing or side-stepping it was pretty much assumed you'd get your place sold in time to close on your new home. Buyers were making purchases without conditions of financing or even inspection, and priority for firm o
ff
ers was common. 
Today, just like we saw pre-2008 in the market, buyers and sellers alike are being much more cautious. 
When an o
ff
er is submitted with an SPP, a buyer is saying "I want your house. I'm ready to commit to your house, but the bank won't give me two mortgages so I want to make sure my house is sold before I can firm up my commitment to purchase." 
Just like a condition on financing or inspection, this clause will give the buyer a set amount of time to put their property on the market, to see if they can get a satisfactory price on their home before the o
ff
er becomes binding. This is most usually 30 calendar days, but can sometimes be 45 or 60 too, depending on how long they think it will take to sell their home. 
Seems like a long time to tie up your property, right? Well, yes, it is, but a prudent and experienced Realtor can help navigate this condition and minimize your risk if you choose to accept an SPP on your property.
Why would someone want or accept an SPP? 
Buyers can be sure that they won't be stuck with two homes if their house doesn't sell as quickly as they would have hoped, and to make sure that the price they get can be enough to finance their new purchase.
Also, you won't have to commit to the sale of a home before you've found the right property to move to. This is especially common with people who are fond of their house, but want to move for work or practicality reasons but don't NEED to move, so they don't want to risk their place being sold without finding something that they love that makes it worth it to sell their current home. 
However, Buyers who insist on an SPP in their contract should know that the Seller will be expecting a premium price for the privilege of reserving the home without total commitment. Just like any other protection, it comes at a price for your peace of mind and your o
ff
er must be a good enough one to induce a seller to tie up their property, and take a risk along with you for the sale of your home. 
For Sellers, this can be a way of getting a property sold in an otherwise tough seller's market, This means your property will, in essence, be sold, but with the possibility that the buyer may back out at any time before the condition deadline, in the event that their sale doesn't happen. You can continue to market the property for sale just in case the buyers cannot waive their condition - As long as you have an Escape Clause, but most agents who see SPP on a listing won't bother to make an appointment and get their clients excited about a property they most likely won't be able to have. Be prepared for much less tra
ffi
c showing your home during this period. 
Ways to mitigate your risk if you're considering accepting an o
ff
er with an SPP
Make sure that you know the property details for the home being sold including the history on the house itself, and what the listing strategy will be for the sale. Most often, the house won't be on the market yet, or just newly listed, so you and your agent will want to make sure you have all the research. Are they priced competitively for a good quick sale, or are they out to lunch on their price? Is the agent selling the property experienced enough to work that market? Do they seem positioned to sell within the timeline?

Is the timeline they are requesting reasonable? As we have seen, markets shift up and down, sometimes quickly, and you want to minimize the possibility that pricing will change during the condition. Will this time push you into the summer market instead of an aggressive spring one, if the deal falls apart?

Make sure the o

ff

er includes an Escape Clause. Properties with an N status next to "Escape" in their listing mean that there is no opportunity for another buyer to come along and make an o

ff

er. This will mean you won't get any showings at all during the time you are sold conditionally and no buyers will be able to o

ff

er on your home as a backup. 
SPPs should always include an Escape Clause of 24-48 hours. This means that if someone else is interested in the property, they can show it, submit an o
ff
er and negotiate satisfactory price and terms with the seller. Once a satisfactory o
ff
er is accepted, the seller's agent will serve notice to the buyer that there is another contract on the property and the buyer will have 24-48 hours to decide if they are comfortable removing the condition and firming up on their purchase, or if they are going to let the house go to the next buyers in line, regardless of whether or not their home is sold. If they choose to waive their condition, the house is theirs. If not, they'll get their deposit back and the new o
ff
er will be accepted in its place. 
The most important thing when considering an o
ff
er with a Condition of SPP, whether you're on the buying or selling side, is to make sure you have a realtor who is experienced to ensure you are protected as best as possible. We're going to be seeing more of these from now on, so make sure your representation is adequately prepared to handle this new market, or you may find yourself out in the cold.